The objective of this case study was to determine what The Tri-M Group could do to reduce consumption when the reliability of the electric grid is in jeopardy as requested by the supplier. In order to test the demand reduction strategies, the equipment commands and space temperature setpoints were manipulated during peak demand conditions using the building automation system. Peak demand conditions include extreme hot and extreme cold weather. The system logged historical data for space temperature, space humidity, space CO2, and two main electric meters during the test periods. The historical data was then analyzed using Tri-M Analytics.
SNAPSHOT
7-story building
Philadelphia, Pennsylvania
Vertical Market: Office
SCOPE
Demand Limiting
Integrated BAS & Energy Optimization
RESULTS
16.7% demand reduction during Equipment Shutdown
4.7% demand reduction during Setpoint Adjustments
Minimal effect to occupant comfort
Demand Limiting

Non-essential Equipment Shutdown

Limiting the buildings's equipment to allow only essential equipment to run will immediately reduce building electrical demand.

Space Temperature Adjustments

Relaxing temperature setpoints for a short period of time can result in minimal effect to space temperature, humidity, and CO2 conditions while allowing mechanical equipment to shut off, limiting their impact on the building's electrical demand.

Results/Conclusion

Utilizing Tri-M Analytics in conjunction with the Building Automation System allowed this facility to effectively reduce its electrical demand by more than 16% when requested by the utility company.
Non-essential Equipment Shutdown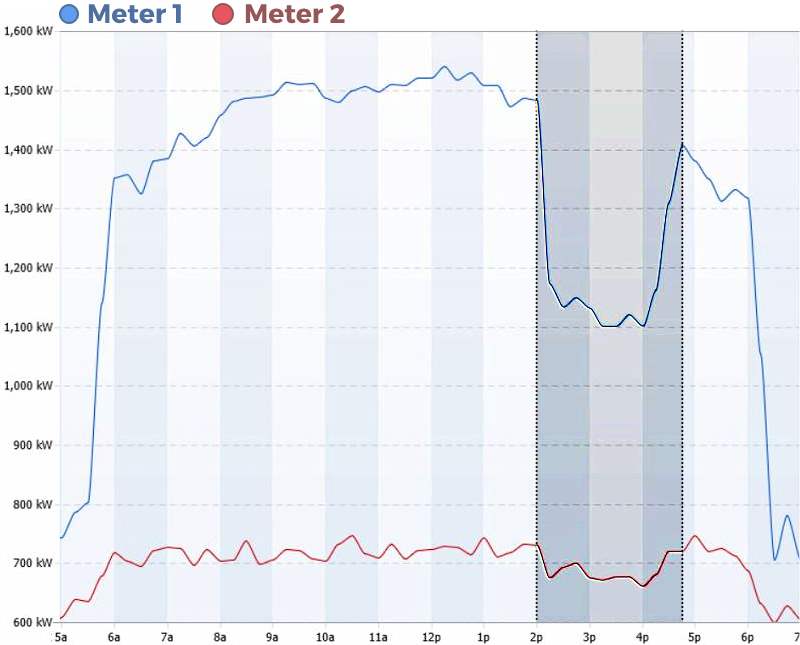 | | Meter 1 | Meter 2 | Total |
| --- | --- | --- | --- |
| Typical Demand | 1447.0kW | 725.9kW | 2172.9kW |
| Measured Demand | 1130.6kW | 679.5kW | 1810.1kW |
| Demand Reduction | 21.9% | 6.4% | 16.7% |
Setpoint Adjustments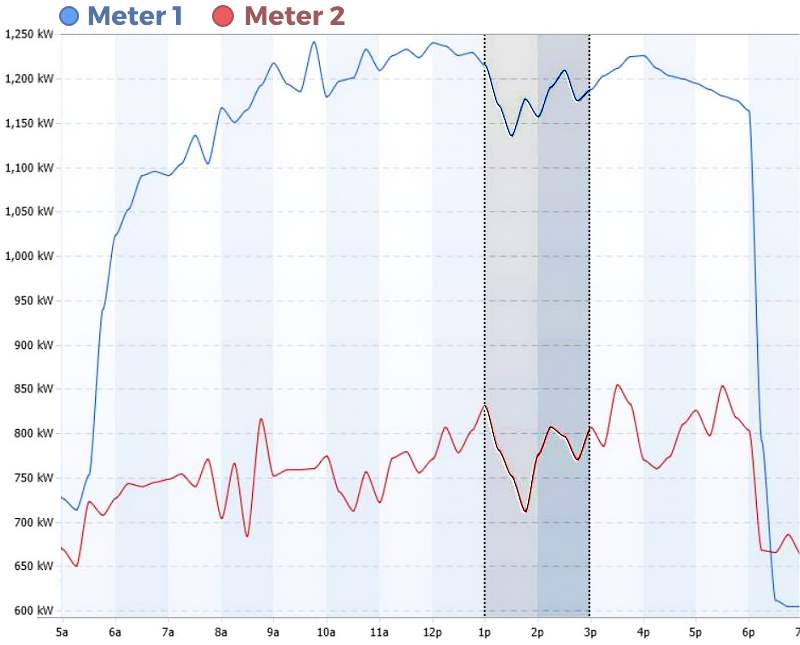 | | Meter 1 | Meter 2 | Total |
| --- | --- | --- | --- |
| Typical Demand | 1212.7kW | 814.4kW | 2027.1kW |
| Measured Demand | 1166.5kW | 765.6kW | 1932.1kW |
| Demand Reduction | 3.8% | 6.0% | 4.7% |